VOICE Global: Free 24hr Online Stream of Voice-Focused Content
We're connecting the world's voice-first technology community with a 24 hour conference that will be streamed on June 9, 2020.
January 16, 2020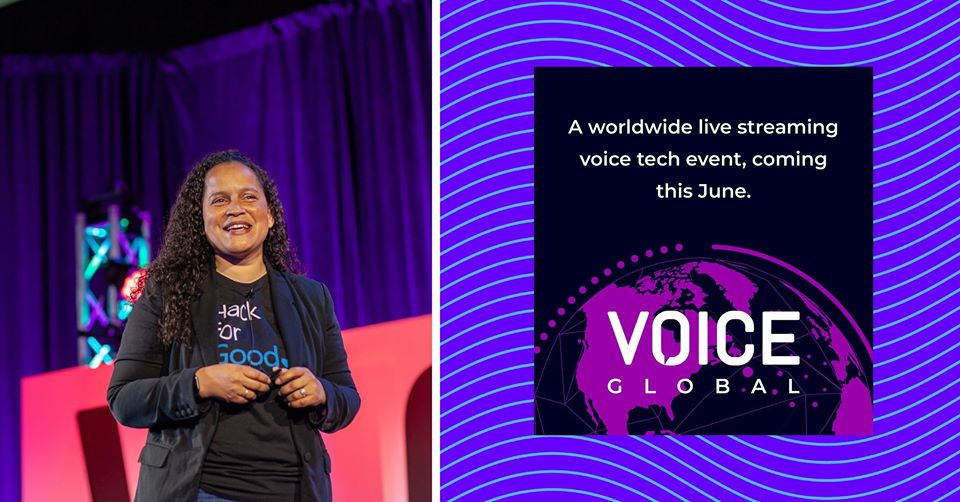 Written by Jenny Medeiros
We're incredibly proud to have a tight-knit community that's spread around the world, but we understand that this means not everyone can attend our content-packed events. Some are stuck at work, others don't have time to chase after visas, and many are students who can't just hop on a plane to another country.
So, we've decided to host an event that everyone can attend.
VOICE Global
VOICE Global is a unique conference featuring keynotes, workshops, panels, fireside chats, and even entertainment that will be streamed for a full 24 hours on May 4th, 2020. (Cue the "may the 4th be with you" jokes.)
You read that right, it's going to run for a whole 24 hours so no matter what timezone you're in, you can catch some voice-first insight. During that time, we'll cover 24 industries including healthcare, fintech, entertainment, and transportation—with topics ranging from software engineering and conversational design to user experience and marketing.
It gets better. The entire event will be completely free to stream and available on multiple platforms in the US, Europe, and Asia. 
All you have to do is register for VOICE Global so we can send you the content agenda and all the details you need to stream. We'll send you a reminder a few days before the event and a final email on the day so you know where to go.
Host a viewing party
While many an introvert will be glad to stream an entire event in their socks and sweatpants, we're sure many of you will want to use the occasion to re-connect with the community in person.
A viewing party is the perfect excuse to round up your colleagues and blow off work for some quality time learning about the next big thing in your industry. We'll even help you get set up for no cost at all. Get in touch and we'll send you digital marketing materials, ready-made messaging, and even lend our logistics pros to coordinate your streaming party. 
You can host it at work, at your university, or just herd everyone into your own home. Wherever you decide, we'll be available to ensure it all runs smoothly.
Want to speak at VOICE Global?
If you're interested in speaking in front of a global audience, we're accepting proposals until January 31st! You can submit your proposal here, and we'll be in touch.
It can be insights from your industry experience, educated predictions for the future of Voice, a workshop on conversational design or development, or simply a peek into how your product or service is changing the voice-first landscape. if it's innovative, valuable and exciting, then we want to hear about it.
Remember, you still have time to submit your proposal before we drop the agenda to attendees worldwide.
Sponsor a track or session
This one is for brands looking to become the face of a particular track or session at VOICE Global. There are 24 unique tracks to choose from. That means 24 opportunities to showcase your brand on thousands of screens worldwide.
Additionally, viewers will be able to interact with your calls-to-action in real-time. That's a definite upgrade from standing at a booth in a crowded exhibit hall.
If you're interested in becoming a sponsor, get in touch and we'll chat about the best opportunity for you.
See you at VOICE Global!
Well, you know what we mean. Even though it's all online, VOICE Global is still a small way of connecting with the ever-growing voice-first community we all appreciate. Something tells us we'll be seeing plenty new members joining us on May 4th—and we couldn't be more excited.
So clue us in: where are you now and do you plan on streaming solo or hosting viewing party?
Let us know in the comments or tweet us @voicesummitai